6 Important Points to Know About Candle Fires in Homes in West Virginia
3/29/2021 (Permalink)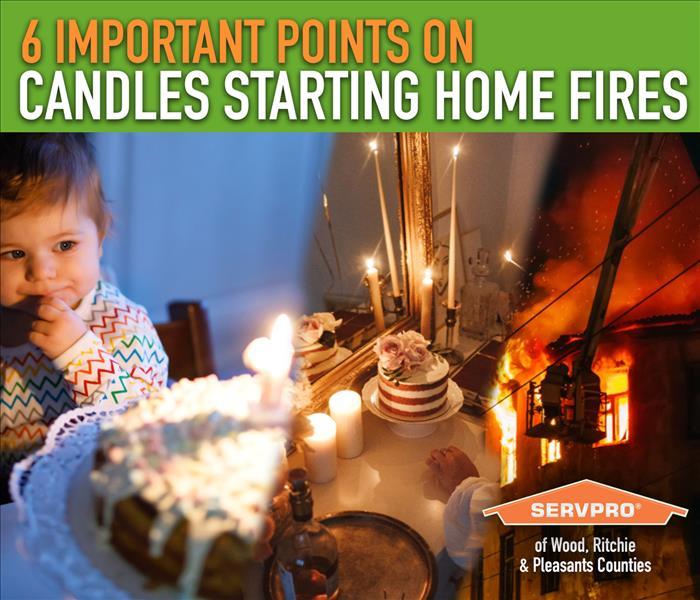 Home fires are often caused by the smallest, and most beautiful looking items in our homes. A simple scented (or non-scented) candle can turn your home from beauty to burned down in a matter of minutes.
Candles serve their purpose and it's important that if you enjoy them, keep using them, but please practice safety whenever using candles.
To give you (and the community) a bigger understanding of the dangers National Fire Protection Association (www.nfpa.org) here are 6 important points you know should know to understand how common it is. Hopefully this will motivate more safety in our community.
During the five-year period of 2014-2018:
Candles caused 2% of reported home fires, 3% of home fire deaths, 6% of home fire injuries, and 4% of the direct property damage in home fires.
Roughly one-third (37%) of home candle fires started in bedrooms. These fires caused 40% of the associated deaths and 49% of the associated injuries.
Falling asleep was a factor in 10% percent of the home candle fires and 15% of the associated deaths.
On average, 21 home candle fires were reported per day.
Three of every five (60%) of home candle fires occurred when some form of combustible material was left or came too close to the candle.
December is the peak time of year for home candle fires. In December, 12% of home candle fires began with decorations compared to 4% the rest of the year.
A burned down home or business is not only traumatic, it's also a very slow, long and expensive process to get your life back to normal again. Please be careful, and follow the safety measures.
If you would like more information on fire safety we have a lot of great resources that you can read though by clicking here.
If you have any more questions please call SERVPRO of Wood, Ritchie & Pleasants Counties on 304-428-7378